Even though 'Ahto' (formerly 'Binary Keyboard'), 'Zwei', 'Top Shelf Calendar', 'Shift' and 'Alt' do not collect any data at all, I am required to state that if they would collect data, y
our personal data (name, address, eMail, phone number, entered text) would be processed by me only in accordance with the provisions of German data privacy laws. These are the best privacy laws there are, but users of the app don't need to worry about this.
Let me also point out that when installing the keyboard extensions Ahto, Zwei, Shift or Alt on your iOS device, you are not asked for "full access" which means that the app has no network access so that it has no
permission to
send any data, at all.
Additionally, non of my keyboard extensions have word correction or suggestion algorithms and do therefore not store entered text locally to improve before mentioned algorithms. This is by choice!
Disclosure: Should you still feel like Ahto, Zwei, Top Shelf Calendar, Shift or Alt stored any of your data, according to the Federal Data Protection Act, you have a right to free-of-charge information about it and possible entitlement to correction, blocking, or deletion of such data. Inquiries can be directed to the following eMail address:
LAHMEFEDER@WEB.DE
Powered by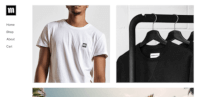 Create your own unique website with customizable templates.